A Year In The Life of a Carnivorous Plant
I first became interested in carnivorous plants when I became the proud owner of a Venus Fly Trap (Dionaea muscipula) which I managed to keep alive for 9 years. Things have changed a bit since then because in the beginning all I had was a window sill, but now I have a share of a 8' by 10' green house.
I thought it would be an interesting project to show some of my plants through a whole year of life.
Please use the carnivorous plants menu link at the top of the page to see my small collection.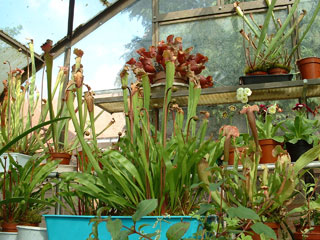 © hoolabajunga 2000 - 2008
All rights reserved.